We have Japanese Akitas for almost 10 years and it is our love and passion. We are veterinarians, so the love for dogs is in our blood.
Passion appeared with the first Akita in our house and getting to know the breed better. It was immediately clear that Akihito kennel will be a part of our lives.
Currently we have two dogs and three bitches in our kennel. Retired Akitas are also cared for and loved for life.
The kennel belongs to the Polish Kennel Club which is a member of the FCI.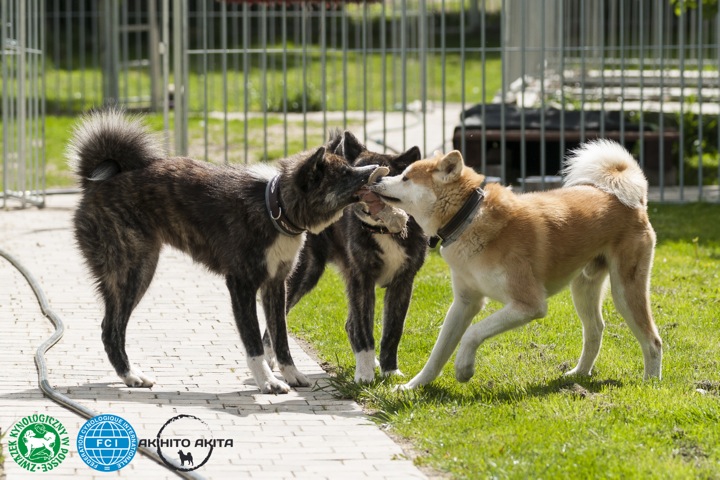 AKIHITO IS A FAMILY OF PEOPLE AND DOGS FORMING A WHOLE
HEALTH – Akihito Kennel always takes care of the akitas so that they are healthy and pass that health on to the next generation.
We examine our akitas for hip dysplasia, we examine hereditary diseases of eyes and teeth. 
BREEDING – puppies in Akihito's kennel are socialized both by us and their herd, always under our care.
Our akitas are taught to behave towards other dogs and people, using positive motivation methods.
NEW FAMILIES – Akihito Akita always keeps in touch with the new families of its puppies. Each owner receives an indefinite "pass" on knowledge about Akitas.
FOOD – nutrition is one of the key elements in our breeding. In addition to natural foods such as beef, eggs, white cheese, and supplements, we use SPECIFIC foods because they are rich in omega-3 fatty acids, EPA and DHA, which come from the oceans. They support skin and coat health, help maintain joint flexibility, contribute to brain and eye development, and support good heart health.  SPECIFIC is a brand of diets for dogs and cats from Dechra Veterinary Products.
JAPANESE AKITA MODEL – we strive to raise as close as possible toJapanese akitas in terms of character and appearance.
GENETICS BASED ON SCIENCE – we never mate related akitas, it is against our veterinary ethics.
Guided by medical and veterinary knowledge, we try to ensure that successive generations give more and more beautiful akitas.
SUPPORTING THE BREED – Akihito Kennel prides itself on cooperation with other breeders in Poland and abroad, building knowledge about the Akita Inu breed based on facts.
We try to convince future owners to choose puppies from tested genetic lines, carrying the health and heritage of the Akita Inu breed in 100%.